Teeth Regeneration and Regrowth 2023: Current Research and Future Treatments
There are way too many breakthrough news (mostly containing useless phrases like No more dental fillings!) all over the web, so we have decided to put together a single page with all current and upcoming state-of-the-art treatments that will revolutionize dentistry. We believe that this page is the most comprehensive and most frequently updated summary on the entire web, period. This article will always be a work in progress with constant updates - so far this page has been updated over 70 times making it a reliable and always up-to-date source of information on future dental treatments.
If you have information on any new research or discoveries that are not listed on this page please let us know in the comments section below. This page is a collaborative effort  - multiple findings were presented to us by our readers in the comments section.
Last updated: December 05, 2023 (Usag-1 section, Pulp section)
If you want to support our efforts please consider making a donation. DentalFreak is a non-commercial project, which means that we spend 100% of your donations on a charitable cause of promoting our free information to broader audiences. Thank you for your support!
Chapters of this summary:
Jump directly to the part of the summary that you are interested in by these links:
Enamel regeneration
Dentin regeneration
Pulp regeneration (updated Dec 2023!)
Growing new teeth (updated Nov 2023!)
Vaccine for dental caries
Dental implants research
Dubious/fake research and treatments
Comments: post your news, ask your question here
When will tooth regeneration be available?
The "tl;dr" (too long; didn't read) answer: If you are waiting to have your decayed tooth regrown in the mouth or regrown and then reimplanted then sadly the answer is: this is not happening anytime soon. If you want to have some layers of dentin or enamel regrown or regenerated this research looks more promising, but we don't expect any commercial procedures with these discoveries in the next 5 years, sorry. Instead of waiting, if you want to avoid the drilling we encourage you to read on natural therapies including arresting caries by remineralization.
To better answer this question we have divided the regeneration process to separate layers, that is enamel, dentin, pulp, and cementum. If you have deep cavities you should be most interested in dentin regeneration, and if your main concern is enamel erosion then enamel research will be crucial to you.
Enamel regeneration 2023 – can scientists regrow enamel?
First of all, it is important to separate enamel remineralization and enamel regeneration. In this article, we are discussing only the latter one, which means growing new layers of enamel, which your body is unable to do on its own.
Most promising work regarding regrowing enamel
Repair of tooth enamel by a biomimetic mineralization frontier ensuring epitaxial growth
How exactly does regrowing enamel (growing new layers of enamel) work?
We'll describe that soon.
When will this treatment be available?
The main problem with this treatment is a really slow regrowth rate – 2.7µm for 48 hours of treatment which equals approximately 17777 hours needed to regrow one millimeter of enamel. So to be clinically applicable this technology would have to be improved. As of now, it does not look like a viable treatment for dental caries but it may be helpful in the future in treating enamel erosion. We expect this treatment to be commercially available within 15-20 years' time and only to treat enamel erosion, not dental caries.
Other work regarding regrowing enamel
Materials chemistry: a synthetic enamel for rapid tooth repair
– by dr Kazue Yamagishi, Japan
How it works?
This work, by dr Kazue Yamagishi and her team, is a novel idea of restoring teeth with early decay. Instead of drilling and filling teeth with resins (which are never perfect and tight sealing of a cavity), she suggests using special toothpaste with HAP crystals (called Synthetic Enamel). After etching the tooth with early decay, her toothpaste is applied and creates a perfect seal, unlike resins that are unable to do so. Although the treatment is called toothpaste it actually is a form of professional treatment performed on a dental chair that takes about 15 minutes to complete. If you ask us, it's somewhat similar to clinically available DMG Icon technology (a caries infiltrant), only more biocompatible.
When will this treatment be available?
Initial information on this treatment was published in 2005 in Nature, and toothpaste was announced in 2016 (an announcement has been published on dr Kazue Yamagishi's website, intended for the Japanese market) but as of 2023 it's still not available and it does not look like it's going to be in the near future or ever. We have made an attempt to contact dr Kazue Yamagishi to obtain detailed information, but she never got back to us.
Japanese regenerating enamel toothpaste
This product by dr Kazue Yamagishi never made it to the market, yet some users ask us about Japanese toothpaste that can regrow or regenerate enamel. The only thing that is currently available on the market and actually comes from Japan is hydroxyapatite toothpaste. This compound appears to be a novel alternative to fluoride. But this is not a new invention – the world's first nanoparticle hydroxyapatite toothpaste called Apadent was introduced in the 1980s. Then, in the 1990s hydroxyapatite has been approved as an anticaries agent, and then another invention took place in the 2000s, when particle size was reduced from 3- to 2-figure nanoscale, increasing remineralizing effect. This is when toothpaste with this compound started being available on European and American markets.
Regrowing teeth enamel human trials 2023
As of now there are no human trials in progress or pending, we'll update this information once this changes.
Other work regarding regrowing enamel
Hydrogel that can promote the growth of an enamel-like surface on teeth and remineralize the dentin
– by Prof. Janet Moradian-Oldak (Herman Ostrow School of Dentistry at the University of Southern California, Los Angeles, United States)
How it works?
The team of Prof. Janet Moradian-Oldak fabricated hydrogel, which is a form of synthetic enamel, which is an approach similar to the one by dr Kazue Yamagishi. As she explains in an online interview: We focused on the chemical events that happen outside of the enamel-making cells in order to create enamel. This meant using the right ions and proteins that make enamel hydroxyapatite (calcium and phosphate) crystals. We used chitosan gel as an inert carrier within which the chemistry would take place. It is similarly designed to be applied for early carious lesions, preventing them from progressing and also providing much better adherence than traditional resin fillings: We started by using a full-length recombinant synthetic protein called amelogenin to regrow a newly formed synthetic mineralized layer on enamel. (…) We started by using a full-length recombinant synthetic protein called amelogenin to regrow a newly formed synthetic mineralized layer on enamel. (…) We now have a technology that hasn't quite reached the complex hierarchical structure of enamel but is at a level that will be functional and has improved properties when compared to damaged enamel.
When will this treatment be available?
According to the publications dated May 2019, the hydrogel is a complete product but requires full clinical trials, which in the case of classic drugs may take even up to 10 years. The hydrogel is working on human teeth (which were previously extracted from the patient's mouth) but it's not clear if the treatment will work just as well inside the human mouth. Another concern that needs to be checked is whether the product is safe so that it can pass all the regulatory steps. Please keep in mind that although this is the closest to hit the market it is also not as promising as the biomimetic mineralization frontier approach.
---
Dentin regeneration 2023 – is it possible to regrow dentin?
Dentin is a tissue that is usually covered by enamel (or some kind of dental fillings) and surrounds the entire pulp. This is the second layer that gets affected if you develop dental caries. In contrast to enamel, your body can grow new layers of dentin (called secondary and tertiary dentin) but it does not happen in the way you may think it does.
Most promising work regarding regrowing dentin and its regeneration
Promotion of natural tooth repair by small molecule GSK-3 antagonists
How exactly regenerating dentin (growing new dentin) with Tideglusib works?
Although scientists have already figured out a way to actually grow new dentin it does not work as well as it may sound. As you may know, your body is able to produce some reparative dentin inside the pulp chamber, but it's not able to do so outside of it, on top of dentin that's already there. The true regenerative procedure would be exactly that – being able to grow new dentin on top of decayed parts of it, that were just removed by a dentist (using a drill). As of now, scientists have only managed to deliver a reproducible technique that allows them to form a reparative dentine close to native dentine compositions at defect sites translatable to small human lesions. This means that when you have really deep cavity and your pulp is exposed dentist usually places material called MTA to stimulate dentin regeneration in this area (to cover the pulp again). This triggers some natural regeneration of dentin (buildup of reparative dentin under MTA material) but this regeneration is very limited and it forms only a thin layer. With GSK-3 inhibitor-triggered reparative dentinogenesis scientists were able to improve this regeneration which results in more robust regenerative dentin formation. But in order for this technology to work it requires direct access to pulp cells, which is why it would not work when applied on top of the already existing dentin layer.
When will this treatment be available?
At this point, there are no clinical trials available yet, but the treatment was confirmed to be viable in humans regarding low toxicity and the ability to regrow small layers of dentin. We expect this treatment to be available within 10 years' time. It's still not clear if this will be a viable kind of treatment that will become publicly available.
Regrowing teeth dentin human trials 2023
As of now there are no human trials in progress or pending, we'll update this information once this changes. The first possible human trials are in King's College London as their research appears to be the most advanced.
---
Tooth pulp regeneration 2023 – can dead pulp be regenerated or restored?
The pulp is the inner part of each tooth and it's made of living connective tissue and cells called odontoblasts. It is sealed and protected by dentin but in case of deep caries or trauma can be exposed and infected. So far the only way of treating such conditions was an endodontic treatment which is a form of therapy that involves the removal of the dental pulp.
Dental pulp regeneration – most promising treatment alternative to root canals
Adult pulpotomy (VPT – Vital Pulp Therapy procedure) – partial pulpotomy procedure with use of bioceramics (like BioDentine)
Partial pulpotomy is a procedure in which a dentist removes only the damaged portion of the pulp (or all the pulp in the upper chamber of the tooth), but without touching the roots. Simply put, it's a less invasive (more conservative) alternative to Root Canal Therapy because some of the pulp is saved and the tooth is kept vital. Unfortunately, in the past, this treatment was considered only for immature permanent teeth with pulp exposure due to caries or trauma or as an emergency procedure for permanent mature teeth until root canal treatment can be accomplished. This is due to a lack of success in adults in the past, but the development of novel bioceramic materials and a better understanding of pulpal biology and pathophysiology have changed a lot in the field.
Current diagnostic tools are a limitation, and there is still no proper clinical protocol established that is universally accepted by all professionals for this kind of treatment (which is why they are so limited), but it is important to mention that this type of treatment is officially recognized and suggested by The American Association of Endodontists (since 2021), which is why it should become widely available in dental offices in the coming years. Please note that this treatment is not for you if your pulp is fully necrotic, it is viable only if your pulp is inflamed (a state called irreversible pulpitis).
If you are interested in researching this topic, here's a list of some dentists who published research regarding this matter: Dr. Ricucci, Dr. Nasseh, Dr. Rhodes.
So what exactly does this mean for you? It means that irreversible pulpitis (inflammation of the pulp) may actually now be reversible! If you have deep tooth decay with pulp exposure and the tooth symptoms (usually the cold test) indicate irreversible pulpitis this used to mean the need for Root Canal Therapy (and having a "dead" tooth). This no longer is the case – if you get treated by an endodontist who follows the new principles only a small part of your pulp will get removed and your tooth will remain vital, with none of the drawbacks that come with the need for RCT. Please keep in mind that there are some other specific conditions that need to be met (like the ability to control the bleeding) and the rate of success is not 100% but this treatment is a true innovation and it is already available to the patients. If you need help in finding an endodontist who performs VPT in your area just contact us and we'll try to help!
SealBio: A novel, non-obturation endodontic treatment based on the concept of regeneration
A novel form of regenerative treatment to replace classic endodontic treatment is SealBio developed in India in 2012. It is a new kind of endodontic treatment protocol that's non-surgical and developed to manage pulp and periapically involved teeth. It has been found to cure and regenerate an infected root canal through stem cell activation. Sounds good right? Sadly the stem cell activation and sealing are done at the apical foramen, and the pulp in the chamber is still removed, so that's not exactly what you may have thought.
Low-Level Laser Therapy for dental pulp regeneration
As there is no real alternative to root canal therapy, the only way to help regenerate your pulp (successful to a limited extent) is LLLT, which stands for Low-Level Laser Therapy (red soft laser). It has been studied that under certain conditions pulp in dogs' teeth responded better when subjected to LLLT before direct pulp capping.1 But they have also shown that the use of MTA material instead of gold foil gave better results than the LLLT which suggests that the treatment is not as effective, as we'd like it to be. Surprisingly, some studies show that LLLT irradiation may be also helpful in treating dental caries, as it affects Streptococcus mutans counts.
Dental pulp tissue regeneration using dental pulp stem cells isolated and expanded in human serum3
Summary paper for this study published Feb 2017 concludes that adult DPSCs (Dental Pulp Stem Cells) have the potential to regenerate dentin and dental pulp tissue due to their differentiation capacity and angiogenic properties. DPSCs were successfully tested in preclinical and clinical pilot study for dental pulp regeneration. Following their transplantation, DPSCs-HS yield regeneration of dental pulp tissue evidenced by their differentiation into endothelial cells to participate in forming a functional vasculature and their formation of predentin tissue over time. The study concluded that the implications of its findings are significant for further development of clinical protocols using DPSCs in cell therapies. However, as of now, there is no information on any further research or clinical trials.
Dental pulp restoration (with a possibility to reverse root canals!) in Japanese dental practice Nagoya RD Dental Clinic (Satsuki-DC)
The procedure of replacing necrotic (dead) pulp or even replacing existing root canals (removing gutta percha from the canals and rebuilding dental pulp) is something we did not see so far. It appears there is a dental practice in Japan that has succeded in doing so. Dental pulp stem cells are collected and from extracted unnecessary teeth like wisdom teeth, then cultured for a month and replanted into tooth chamber (after existing pulp or filling material has been removed). We are not aware of any other dental offices providing this service, and as of now it is fairly expensive (tens of thousands of dollars).
All steps of the procedure are as follows:
1. Extraction of unnecessary teeth, collection and cultivation of dental pulp stem cells
Unwanted teeth such as wisdom teeth are extracted and dental pulp stem cells are collected from them.
This will be cultured for about a month in preparation for transplantation.
In addition to wisdom teeth, you can use the baby teeth that will fall out between the ages of 7 and 10.
2. Dental pulp stem cell transplantation
The pulp of the tooth to be treated is removed, sterilized, and cultured pulp stem cells are transplanted. At this time, the chemotactic factor G-CSF is also transplanted.
3. New blood vessels, nerve elongation, pulp regeneration, dentin regeneration
Due to the action of G-CSF, cells remain within the root canal, promoting angiogenesis, nerve elongation, and pulp regeneration. Furthermore, the lost dentin will be regenerated.
4. Storing dental pulp stem cells to protect the future of your teeth
Dental pulp stem cells used for pulp regeneration treatment can be stored at the Aeras Bio Dental Pulp Stem Cell Bank. Regenerative treatment is a field that has been actively researched in recent years, and stored dental pulp stem cells can be used not only for future dental pulp regeneration treatments, but also for Alzheimer's disease, cerebrovascular disorders, cerebral infarction, myocardial infarction, leukemia, and malignant tumors. It is expected to be used in the treatment of aplastic anemia, spinal cord injury, etc.
Regenerating dental pulp human trials 2023
As of now, there are no human trials in progress or pending, we'll update this information once this changes.
---
Regrowing whole teeth (growing new teeth) 2023 – is it possible to make adult teeth grow back?
There are two possible approaches to growing new teeth – implanting whole living teeth or growing teeth directly in the mouth of a patient. Sadly there are no upcoming treatments at this point.
First of all, it is worth mentioning that some animals do grow new sets of teeth, and some of them shed teeth almost constantly throughout their lifetimes. Humans grow only 2 sets of teeth, but there are occasional reports that some people grow back teeth for the third time or they even grow entire sets of teeth. Currently, scientists have not answered the question of why this happens in some people and not in others.
Scientific background of natural tooth development in humans
Tooth development in humans begins when there is an interaction between the epithelium (that's a scientific name for the upper layer of skin in the jaw) and the mesenchyme (the connective tissue located beneath it). The progenitor cells gather in the area, where the tooth is to grow and form a mesenchymal condensate. Based on the signals it is making the epithelial cells grow into the mesenchyme and invert the condensate. This form of close cell-to-cell contact between these tissues acts as a trigger and causes the cells to differentiate into those cells which then form two kinds of hard tissues – the dentin and the enamel. After this tooth develops to its full size in the jaw before erupting from the sinus. It is important to notice that once the tooth is lost, mesenchymal condensation necessary for a new tooth to grow no longer occurs, therefore the process is never repeated. Scientists at The Technical University of Berlin are aiming to solve exactly this problem by implanting the tooth germ grown in their laboratory into the jaw.
Most promising work regarding regrowing growing new teeth (regrowing human teeth)
Work by the Technical University of Berlin (Department of Medical Biotechnology)
Work by the Kyoto University, Japan (Anti–USAG-1 therapy for tooth regeneration through enhanced BMP signaling) – implementation by WuXi Biologics and Toregem BioPharma as a monoclonal antibody "TRG035" with possible clinical trials in 2024.
Work by the Warsaw University of Technology (SteamScaf) – very early research, first publications are from 2022 claiming the whole research will take at least over a dozen years
How exactly regrowing/growing new teeth is supposed to work according to TU of Berlin?
As mentioned above in the scientific background once a tooth is lost there is no new trigger for a new tooth to grow and this is precisely where TU of Berlin scientists want to act. They already claim that they were successful in developing a specific process and patenting it globally. Although it will certainly take some time until this is available for clinical use they claim to have very good results from in-vitro studies so far and the main task as of now is to transfer the whole procedure to the biological environment.
So what exactly is their process about? Firstly, they extract cells from the dental pulp cells from human teeth and make them multiply in the lab. In the next step "these cells are cultivated in microwell plates, which are covert with a special layer to prevent the cells from sticking, thus causing the cells to interact and form a three-dimensional cell ball known as a dental organoid."
The whole concept is about implanting this organoid into the patient's jaw, which is designed to trigger natural tooth growth in the jaw. This has already been successfully demonstrated in lab conditions. Teeth are designed to grow from the patient's own cells so there is no need to use stem cells in the process, so the whole process is free from any ethical considerations.
Different approach: Anti–USAG-1 therapy through enhanced BMP signaling – monoclonal antibody TRG035
These are relatively new discoveries and they are pretty complex to explain so our explanation will be pretty basic and limited so that you can get an idea what is it all about. For more detailed scientific explanation please read original paper listed in references below2.
Scientists have conducted experiments with wild-type or mutant mice where they found that BMP/Wnt signaling is critical for determining the number of teeth in mice. There is a bifunctional protein called USAG-1 (Uterine sensitization–associated gene-1) that antagonizes BMP and Wnt. So the conclusion was the USAG-1 is what controls the number of teeth by limiting the potential of developing new tooth germs. Experiments conducted with use of Anti-USAG1 antibody (later called TRG035) revealed that a single administration of this antibody was enough to generate a whole new tooth. What's especially important this therapy is pending clinical trials in 2024 by WuXi Biologics and Toregem BioPharma as a monoclonal antibody "TRG035". Press notes claim that this treatment will work as a tooth regeneration treatment for congenital adentia – as of now, it is unclear if this will be a universal therapy or limited to very specific cases.
When will this treatment be available?
We are far away from this technology being widely available, below is a timeline for 3 types of cases:
1. Year 2030 is the soonest possible launch of treatment for people who have no teeth at all at birth
2. Year 2033 is the soonest possible launch of treatment for people that were missing some of their teeth at birth.
3. For all the patients that lost teeth due to tooth decay, periodontal disease or trauma there is no certain date disclosed as of now. All we can assume is that it will be a few years later than 2033. This information is based on 2022 corporate presentation by Honoka Kiso, CEO of Toregem BioPharama Co., Ltd.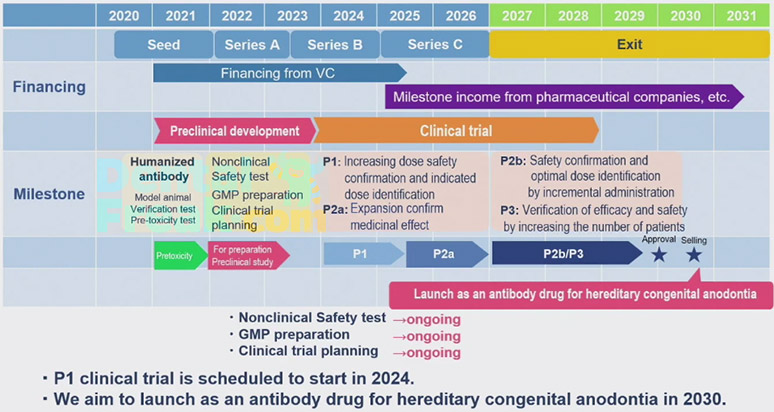 Regrowing teeth human trials 2023
Currently, there are no human trials in progress or pending. Berlin Institute of Technology claims that they have finished the preliminary tests and are about to start the first pre-clinical tests, making it one step closer to human trials. We will update this information once any progress is achieved.
Side note: A phase I clinical study of the TRG035 molecule by WuXi Biologics and Toregem BioPharma (read above more about it) is planned to start in early 2024 (as of October 2020).
---
Vaccine for dental caries 2023 – when will it be available?
There are multiple approaches regarding vaccination for dental caries, and some of them have clinical trials in progress. We will update this chapter soon.
---
Dental implants advancements 2023 – new implant technologies
Since growing and implanting whole teeth is not coming anytime soon we have decided to focus also on dental implant research and innovation since recently there were some impressive advancements in this field as well.
Modern dental implants are a technology that is about 40 years old since their milestones in osseointegration were termed in 1981. The standard screw-type implant has not changed much since that time, but there were some novel approaches listed below. Implants debuted as a metal (titanium) screw
Zirconium as a dental implant material
Bioimplant (RAI – Root Analogue Implant)
This is the first CAD/CAM (Computer Aided Design/Computer Aided Manufacturing) implant development system based in Vienna, Austria, Europe (and as of now, available only there). Each procedure consists of three steps:
pre op CT/DVT scan
tooth extraction in certain manner
immediate (same or next day) implant placement with protective splint
crown fitting after 8-12 weeks healing period is complete
The main advantages of this approach compared to classic dental implants are the following:
there is no need for a sinus lift or bone grafting
there is also no need for a classic implant surgery – the whole procedure is simplified and easier, meaning there is no drilling into bones
the implant is designed to fit your bone socket, rather than drilled into the bone that later fits the implant
implant is made fully from zirconium (it's 100% titanium free)
However, it is also important to address the limitations of this system:
you need to have your tooth still in place
success rate is marginally lower than classic implants
it is being offered in only one place – in Vienna (Austria, Europe)
it is more expensive than classic zirconium implants
Replicate Tooth
This system is based on a concept similar to the Bioimplant but uses titanium instead of zirconium as a base material (titanium base is fused seamlessly to the zirconium crown for aesthetic purposes). While it may sound inferior, the main advantage of this company is that the implants are not produced on-site and thanks to that it is being offered in more places than just one. Yet the FDA approval is not cleared, so currently you cannot get any kind of anatomic implants in the United States.
Please note that as of 2023 Replicate Tooth went bankrupt and their technology will no longer be in commercial use.
Other dubious or fake dental regenerative treatments
We would like to thank our readers for posting links to new innovative research and treatments in the comments section. We read all the papers carefully and in this section, we have decided to comment on all these shares that did not make it to our article (with an explanation of why we decided to not include this information). We read all the comments and encourage you to post more, thank you!
InnoDent – enamel implantation
There is a website that sells therapy in form of flasks that are supposed to create new enamel as the quote says: "New enamel is formed within 3 weeks with all the morphological and physiological properties of natural human enamel (color, luster, mineralization, and strength)." To us this sounds too good to be true so obviously, we have many concerns regarding the product and its efficacy. The manufacturer claims that this is (quote again) "the patented biocompatible peptide-implant and the bio-organic analog of human amelogenin" but does not provide any information regarding the patent, nor there is any information on the price or company address. What we would like to see is a scientific, peer-reviewed paper that explains how the product works, until such a paper is published we do not recommend trying these kinds of miracle cures.
Products with the word Repair in their names
There are many products that claim to repair enamel (containing the word repair in their names like Curodont Repair or ApaCare Repair). These are all legitimate products, but the word repair may be misleading for some customers – none of these products promise to build new enamel, what they do is in fact repair existing enamel by remineralizing it. So it's always a good idea to use these, but if you're looking to grow new enamel these products won't be able to help you.

References
1 The Effect of Low-Level Laser Therapy on Direct Pulp Capping in Dogs – J Lasers Med Sci. 2016 Summer; 7(3): 177–183.
2 Anti–USAG-1 therapy for tooth regeneration through enhanced BMP signaling – Science Advances 12 Feb 2021 Vol 7, Issue 7 DOI: 10.1126/sciadv.abf1798
3 Dental pulp tissue regeneration using dental pulp stem cells isolated and expanded in human serum PMCID: PMC5797986