Below we recommend products we believe are the best in their class. The list will be updated once we think we found a better substitute for a product listed so that you can be sure you use only superior products without any effort required to actually find them. These recommendations of products we use ourselves are honest, and not sponsored, although as Amazon Associates, we may earn from qualifying purchases made using our affiliate links.
Have a question regarding our recommendations? Or maybe you'd like to ask about any other dental product?
Please use the form provided here: ask a question
Toothbrush
We recommend using an electric toothbrush that suits you best – either oscillatory, sonic, or ultrasonic. PubMed papers suggest oscillatory remove plaque best [1], but sonic can penetrate further than their brushes can reach [2] and ultrasonic (most expensive ones) can reach even further than them. Below we present sonic and oscillatory brushes. If you have a large budget we recommend you head to the Megasonex dealer for their 2-in-1 sonic&ultrasonic toothbrush.
---
Toothpaste
Unless you have really serious tooth decay problems nowadays there is absolutely no need to use toothpaste with fluoride that may be toxic in larger amounts. Below we recommend two types of toothpaste with hydroxyapatite – a compound that remineralizes enamel just as good as fluoride, although it may be a bit less efficient in terms of antibacterial action, which is why there is zinc and xylitol added to one of the recommended kinds of toothpaste.
---
Tongue scraper
Should you use a tongue scraper? Of course! It prevents cavities, helps with getting rid of bad breath, but there's more: it even improves heart health, boosts the immune system, and improves digestive health! What's best about this tool is you buy it once and for all plus it's cheap too!

Copper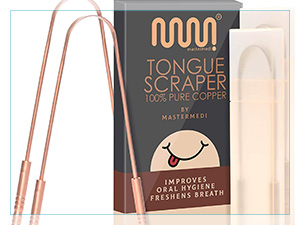 Pure Copper Tongue Scraper by Mastermedi
A tongue scraper is an important accessory in daily oral hygiene, as it lets you clean your tongue thoroughly. Buying one of these is a no-brainer: you want it to be handy, made of copper, and ideally with a protective case. Copper is the best material because it is antibacterial (it's superior to plastic). There are more expensive and sophisticated tongue scrapers on the market, but they are not more effective, so why overpay? Here you get 2 pieces with 2 travel cases for a reasonable price.
Get it now on Amazon »
---
Floss
Best floss would be thick and waxed, with fluoride (we prefer fluoride-free kinds of toothpaste, but it's okay in a floss, hydroxyapatite is great too but only RiseWell manufactures them this way), and with added extra antibacterial coating. In Europe, we love Donto Dent Zahnseide packed in handy green boxes (100 meters each), but since these are not available worldwide here are our other picks.
---
Dental probiotics (for oral microbiome)
Healthy oral microbiome means fewer cavities, fewer gum problems, and fewer infections. But it doesn't end there, because the good and bad bacteria in your mouth are directly linked to the bacteria in your digestive system so it impacts your overall health. This is why instead of killing 99% of all bacteria you should supplement protective bacteria in your oral cavity.

---
Mouthwash
We do not recommend using classic, popular Listerine-like mouthwashes due to their acidity and harmful impact on the oral microbiome. In general, you do not need a mouthwash, but if you intend to use one we recommend alkalizing, alcohol-free mouthwashes with xylitol, made of natural ingredients (although fluoride may be beneficial in severe decay problems) and certainly without an antibacterial agent. What you want is to promote a healthy oral microbiome with elevated pH levels, not a disinfectant.
---
Book on dental caries and oral hygiene
Balance: A Guide to Managing Dental Caries for Patients and Practitioners (click to see)
This may come as a surprise as this book is super underrated, and a bit old (but the year 1852 listed on Amazon is a typo, the book is around ten years old!) but we believe this is the best book on dental caries and dental hygiene available on the market. Please go read our review first.
---
Products for kids
Coming soon.
---
Other products
Coming soon.
Disclaimer: please note that as Amazon Associates, we earn from qualifying purchases made using our affiliate links. This fact does not affect our recommendations, and not all recommended products use affiliate links. We are not affiliated with any brands or manufacturers, nor do we sell dental products.
This list is still a work in progress and was last updated on June 7, 2023.